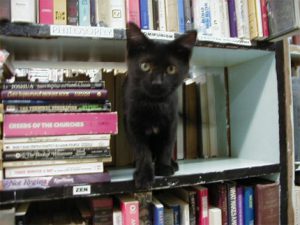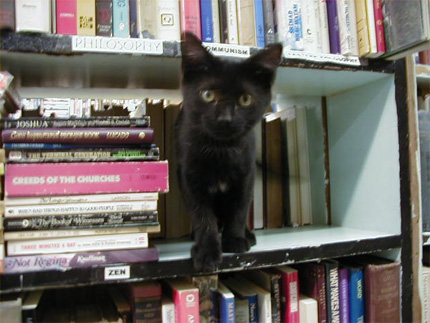 My name is Eko, Mister Eko.  That's right, the Mr. Eko who has been feline in residence at Dark Star Books for these last eleven years.  For the record, I was named after the (sadly) short-lived character of the same name from the American television series Lost.  Portrayed by British actor Adewale Akinnuoye Agbaje whose extensive list of credits include Game of Thrones and Annie.
I came here a callow kitten, but soon was initiated in the mysteries of both books and readers. Having been hand raised among your kind I have a high tolerance for humans in general, but, being a smart, quiet creature myself, I overwhelmingly approve of those who read…  They possess the catlike quality of being able to sit in silence for long periods of time in a comfortable position.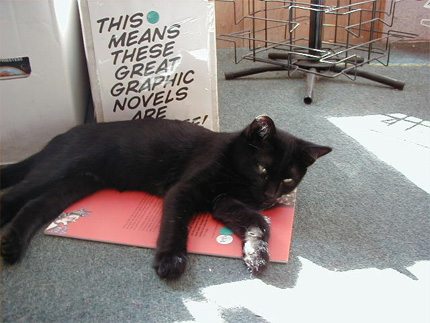 If you've visited the store you've undoubtedly seen me demonstrate my love of books by dozing and snuggling against them.But since there are far too many for me to ever read, I don't object when they find a forever home.  You read correctly; I can read.  You'll never catch me doing it during business hours, but late at night when the store is empty and I'm alone, like many of you I also like to curl up with a good book.  Recently the staff has asked me to recommend some of my current favorites.  Initially, I begged off, citing my heavy workload, but it's become quite clear some of you could use my guidance when making your purchases.
Yours sincerely,
Mr. Eko